Pleasanton Invisalign - Clear Braces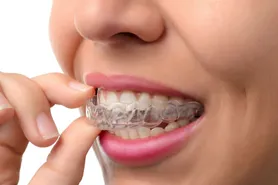 Pleasanton dental patients are enjoying straighter teeth and a healthier bite thanks to Invisalign® Provider, Dr. Mona Gokani. Invisalign is an innovative alternative to traditional metal braces, using custom-crafted, form-fitting dental trays.
They offer a completely clear-colored and removable solution to a more beautiful smile and a more confident you. At our dental practice we are proud to have Dr. Gokani, who has been recognized as a leading Invisalign provider in Pleasanton and continues to correct smiles for patients who choose this alternative clear aligner procedure.

Your Invisalign treatment will consist of a series of aligners that you switch out about every two weeks. Each aligner is individually manufactured with exact calculations to gradually shift your teeth into place. And since your Invisalign system is custom-made for your teeth and your teeth only, with a plan devised by you and your dentist or orthodontist, you know you'll end up with a smile that truly fits. If you're ready for a smile that transforms your appearance, Invisalign is your answer. Although there are many choices out there, no other works as effortlessly as the Invisalign system.
Correcting Milt to Moderate Malocclusion Discreetly With Invisalign
Invisalign trays are made from a transparent, durable plastic that gently applies pressure to shift teeth into the desired alignment. Based on impressions taken by Dr. Gokani, clear braces are molded to fit each patient's unique smile.
These custom aligners are designed to target your specific dental issues, ideal for addressing mild to moderate malocclusion, as well as correcting small gaps and crowded teeth. The duration of each Invisalign treatment varies, but this treatment course can be completed within a year for some cases.
Effective and Convenient Invisalign Treatment in Pleasanton
Invisalign's clear aligners are custom designed, precisely crafted to address the needs of each patient's unique smile. These virtually invisible appliances discreetly straighten teeth, encouraging patient confidence and self-esteem.
As patients undergo treatment, they graduate to a new set of trays every two weeks. For the most effective results, aligners should be worn for at least 22 hours a day and removed only during meals and your at-home hygiene routine.
Our Invisalign patients can enjoy the many benefits these clear trays have to offer, including:
No Metal Components
Virtually Invisible
Discreet Treatment
Safe for Active Lifestyle
No Dietary Restrictions
Invisalign aligners are commonly chosen because of their aesthetically pleasing design, making them an optimal solution for those looking to maintain an effortless-looking appearance while enhancing their smile. Whether for important social events or for finally achieving the beautiful smile you have always s wanted, our Pleasanton dentist will work closely with you to administer the best treatment plan.
Are You A Candidate for Pleasanton Invisalign?
Not only is Invisalign versatile, helping to correct a broad range of dental and orthodontic issues, but it really works. And there are over half a million smiles to back that up. But a confident smile isn't the only benefit of correcting your dental issues with custom-made Invisalign aligners—your health can be positively impacted as well. Learn more about several common issues below that an experienced Inviaslign® doctor can work with you to correct.
Overly crowded teeth:
This occurs when there is simply a lack of room within your jaw for all of your teeth to fit normally. When left untreated, overly crowded teeth can cause dental decay, an increase in chances of gum disease, and can prevent the normal function of teeth.
Widely spaced teeth:
This occurs with abnormal continued growth of the jaw bone. When teeth are missing, this issue can also be caused by the other teeth shifting due to extra space. Spacing issues in teeth can cause some periodontal diseases.
Crossbite:
This occurs when the upper and lower jaws are both misaligned. It causes one or more upper teeth to bite on the inside of the lower teeth, and can happen on both the front and/or the sides of the mouth. This issue can cause wear of the teeth, gum disease, and bone loss.
Overbite:
What people commonly refer to as an "overbite" is known to dental professionals as "overjet." It occurs when the upper teeth bite over the lower teeth. It's typically caused by either genetics, bad oral habits, or over development of the bone that supports the teeth. This issue can lead to gum problems or irritation, and/or wear on the lower teeth and can cause painful jaw and joint problems.
Underbite:
This occurs when the lower teeth protrude past the front teeth. It's usually caused by undergrowth of the upper jaw, overgrowth of the lower jaw, or both. It can also be caused by missing upper teeth. This issue can prevent the normal function of front teeth or molars which can lead to tooth wear. I can also cause painful jaw and joint problems. An Invisalign doctor will work with you to create a custom-designed program that will treat your specific dental or orthodontic issue(s). Your treatment program will consist of a full set of aligners, made for you, and only you.
Let Us Help You Achieve A Straighter Smile
To see if Invisalign clear aligners are the right option for you, contact our Pleasanton Invisalign provider today. We look forward to meeting you!